The pistachio plant: noble fruit from the Mediterranean Sea
The intense aroma of pistachios is as much a part of Italy as strong espresso. Reason enough for us to take a closer look at this noble fruit. Here we were inspired to combine the taste of pistachios and coffee. With passion for the Dolce Vita we have created Caffè al Pistacchio and captured the recipe for you as a short video. Buon coffee!
contents
The pistachio plant
The plant itself, that is, the pistachio tree, was introduced to Europeans by the Arabs. However, the pistachio was already used by the ancient Greeks and Persians. The spread took place throughout the Mediterranean region. There, the pistachio was first reserved only for kings and their court. They were popular as a snack to nibble on, were used in fine ragouts and pies, and of course found their place in luscious desserts such as tarts and creams.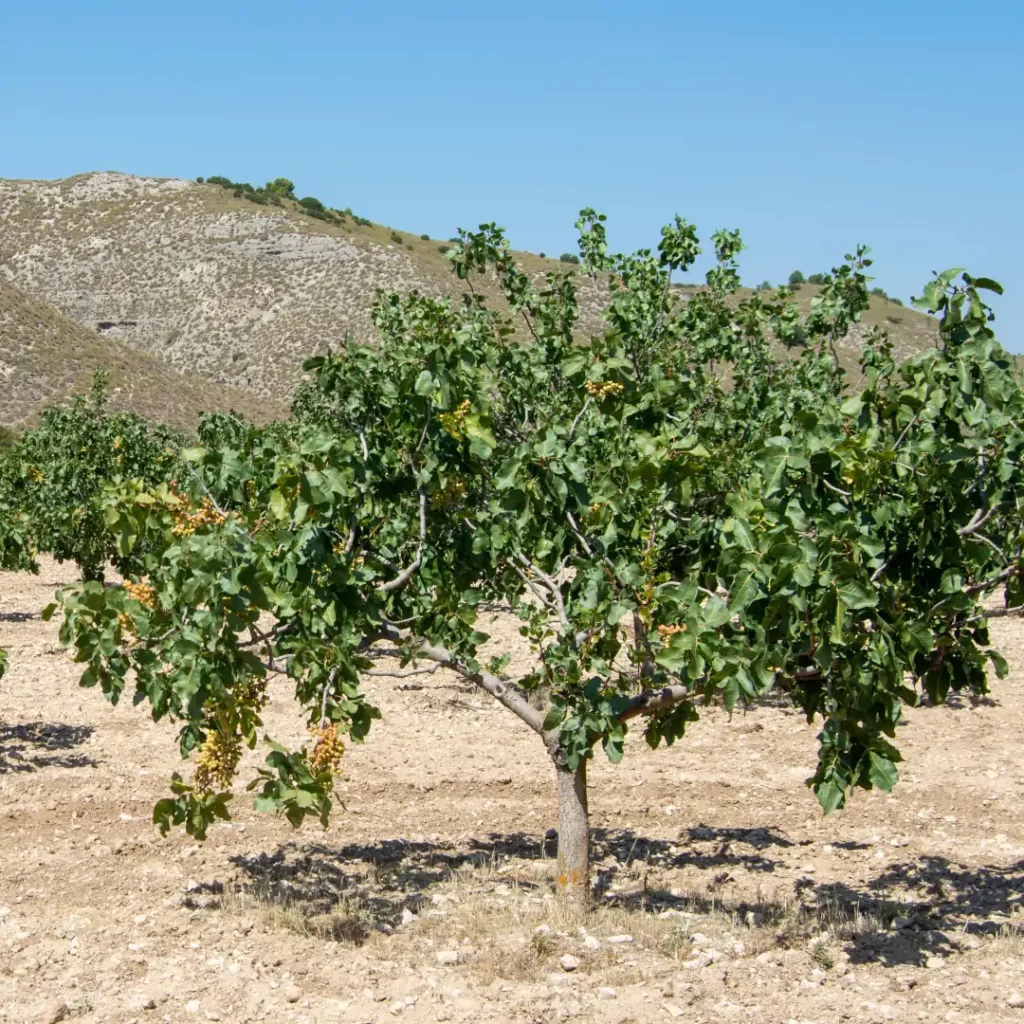 Pistachio trees themselves are dioecious: the female or male flowers grow on separate plants. Through wind pollination, the approximately 1.25 cm long fruits develop with a green, fleshy skin, which then turns reddish and bursts open when fully ripe. The kernel is hidden in a thin but hard shell that opens during roasting to reveal the green, edible kernel.
Are pistachios nuts?
The fruits of the pistachio plant are not nuts as many assume, but drupes of the pistachio tree. The "Pistacia vera" means as much as "green almond", also called real pistachio. This is how the original variety is distinguished from other types of pistachios.
The coveted kernels are usually oval and roundish and have a thin, firm shell. The green seeds have an almond-like, highly aromatic flavor. This pistachio flavor enhances baked goods and desserts of all kinds, and the noble fruits also give meat dishes a particularly luxurious twist.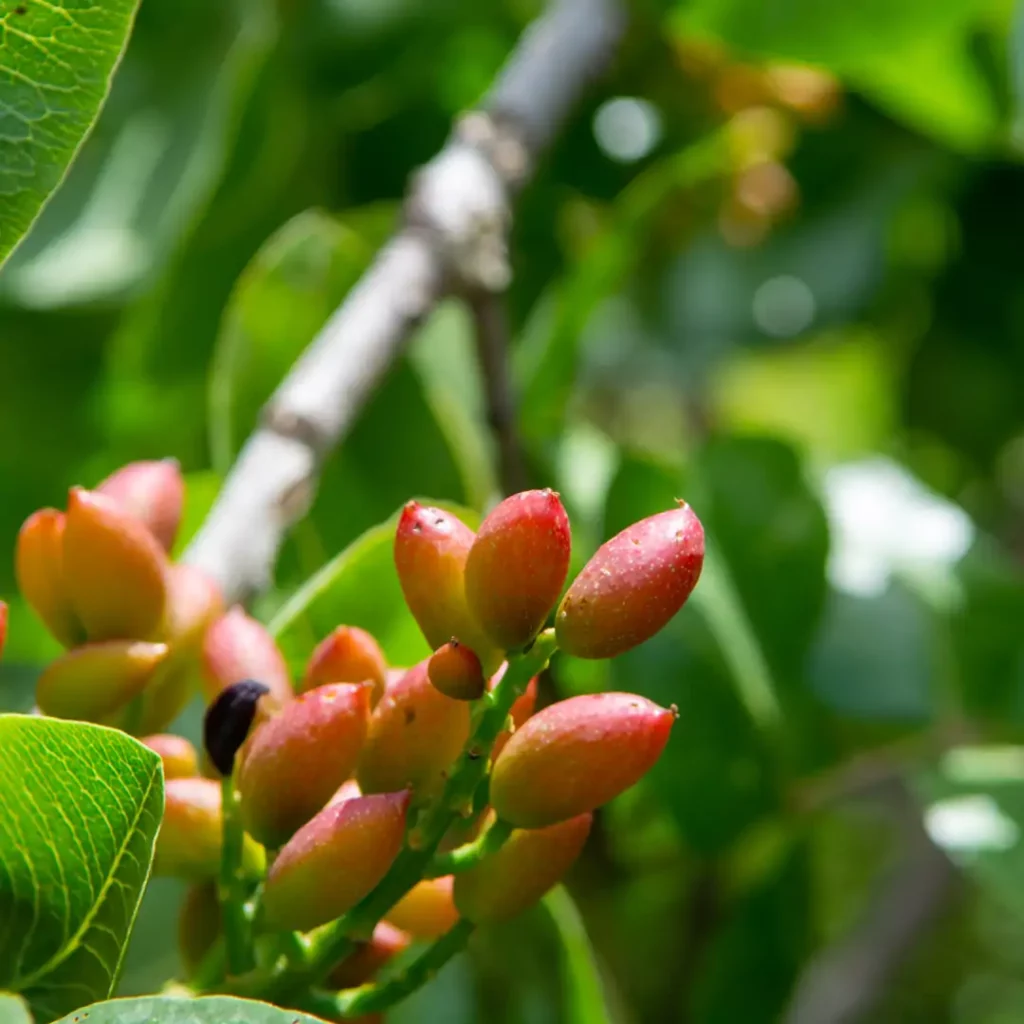 Where grow pistachios
This ancient crop has long since ceased to be cultivated exclusively in the Middle East. Although the largest cultivation area for pistachios is in Iran, the USA is already in second place with San Joaquin Valley in the state of California. Turkey has also become an exporter of pistachios, while the Central Asian countries grow mainly for their own consumption.
Since the pistachio tree has adapted to the Mediterranean climate, European cultivation is limited to Greece, Spain and Italy. The green gold from Sicilian province of Catania has nevertheless made it to worldwide recognized and highly appreciated quality.
Are pistachios healthy?
The answer is yes! Pistachios are healthy super fruit. They contain many of the healthy Omega 3 fatty acids which, among other things, can lower cholesterol levels. In addition, the delicious seeds of the pistachio plant contain much Protein or protein and calcium, valuable for building and maintaining muscles and bones. Potassium regulates blood pressure and is also present in significant quantities in pistachios.
Of course, pistachios also bring vitamins: Vitamin B6 for a vital immune system and vitamin E fights the so-called free radicals. Thus, pistachios help keep you healthy and young.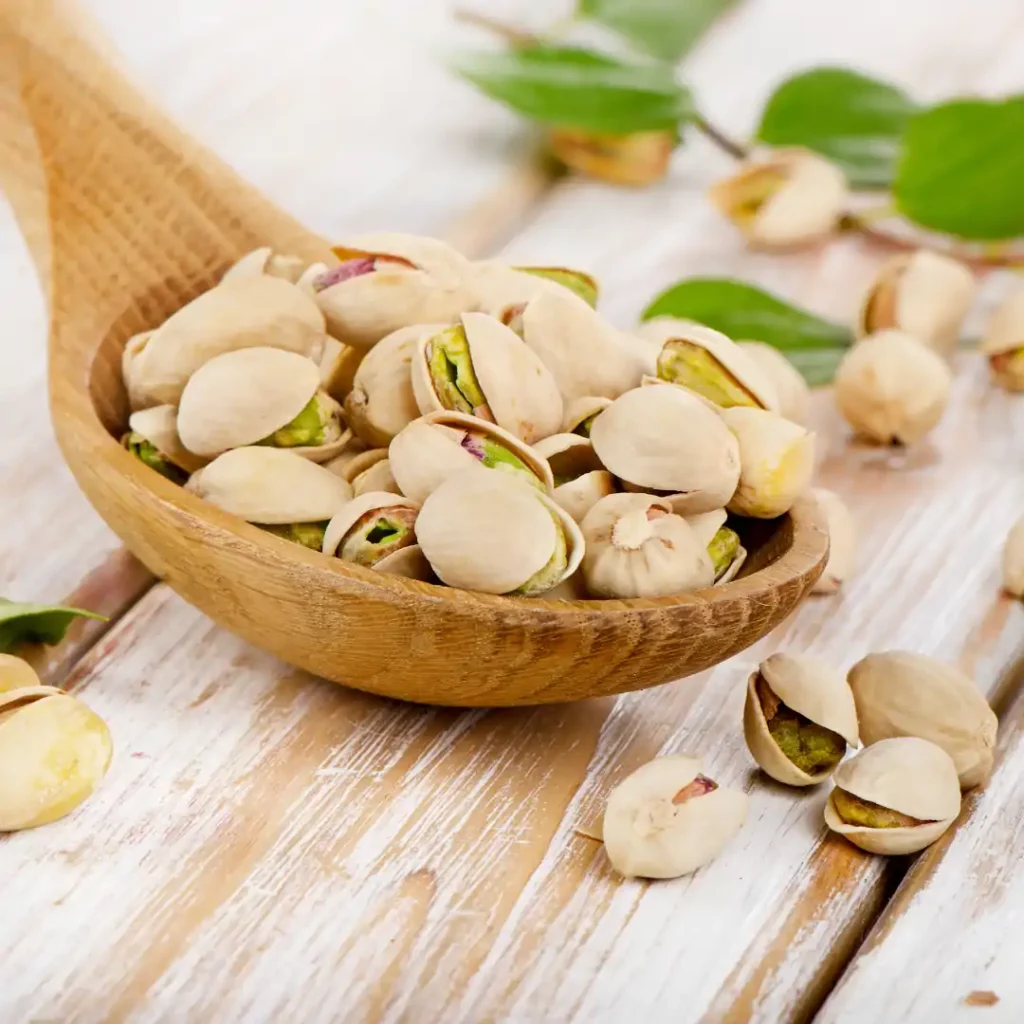 Nutritional information for pistachios:
Calories 562
Fat content 45 g
Saturated fatty acids 6 g
Trans fatty acids 0 g
Cholesterol 0 mg
Sodium 1 mg
Potassium 1.025 mg
Carbohydrates 28 g
Dietary fiber 10 g
Sugar 8 g
Protein 20 g
Nutritional values per 100 g pistachios. Source USDA
| | |
| --- | --- |
| Vitamin C 5.6 mg | Vitamin B6 1.7 mg |
| Magnesium 121 mg | Calcium 105 mg |
| Iron 3.9 mg | |
Vitamins per 100 g of pistachios. Source USDA
Recipe: Caffè al Pistacchio
Discover our original Italian recipe for this extravagant delicacy: Caffè al Pistacchio. The incomparable combination of dark espresso and pistachio flavor will delight you. With this recipe, you'll create a classy dessert in no time that's guaranteed to impress your guests, too. Check out our video recipe, we hope you enjoy making it and especially enjoying it!
The ingredients for Caffè al Pistacchio: