Nespresso®* capsules – the original Italian alternative
With compatible Nespresso®* capsules from Cellini Caffè you combine the simplest preparation and original Italian coffee quality. Lovingly refined in traditional drum roasting.
Germans' favorite drink: Coffee is the clear number 1. In 2020, per capita consumption of coffee rose to 168 liters. It is therefore not surprising that Nespresso capsule machines are experiencing a real boom. Quick and easy to prepare, the small coffee capsules offer a high variety of good coffees.
The development is driven by the desire to enjoy coffee particularly aromatic and with a thick, velvety crema, just like at your favorite Italian restaurant or café.
contents
Nespresso®* capsule alternative from Cellini Caffè
Should it be uncomplicated and quick and taste highly aromatic at the same time? More and more coffee connoisseurs are opting for the practical Nespresso capsules. This coffee preparation involves inserting a capsule, closing the machine and pressing a button to force hot water through the coffee grounds. Just before the brewing process, the aroma-sealed Nespresso capsules are pierced.
The innovation of getting a perfectly dosed cup of coffee in a small capsule comes from a renowned Swiss food company.
Cellini Caffè Nespresso capsules guarantee the enjoyment of a consistently high quality coffee in perfect quality around the clock. The secret lies in the selection of the best green coffees from Central and South America. The exquisite beans are gently refined in traditional drum roasting. This guarantees an aromatic and extremely digestible coffee taste.
We have deliberately chosen aluminum for our high-quality coffee capsules. The material optimally protects your coffee from external influences such as light, air or moisture. This makes them storable for longer periods of time without compromising quality. On the other hand, the return into the recycling cycle is convenient and uncomplicated for you via the yellow bag or the yellow garbage can.
Capsules for Nespresso®* – what varieties are available?
Cellini Caffè's Nespresso®* capsules offer you a wide variety of different coffees that no other preparation method can match.
COFFEE LUNGO
For creamy moments of pleasure in a large cup
Most of all you love the pleasure of a cup of coffee with thick velvety crema? Enjoy the finest Caffè Lungo, from mild and fine to strong and rich.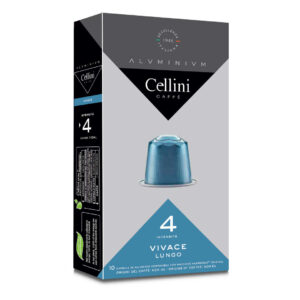 Lungo Vivace convinces with fruity-floral and mild notes, intensity 4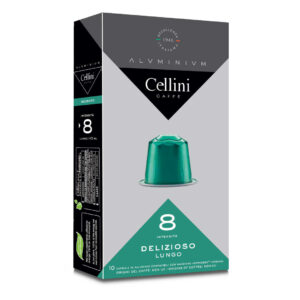 Lungo Delizioso guarantees a strong, rich taste experience, intensity 8
COFFEE ESPRESSO
A coffee experience like in Italy.
From gentle and mild to strong and intense, choose the ideal companion from our espresso range according to your taste. Or how about our Decaffeinato for caffeine-free enjoyment around the clock?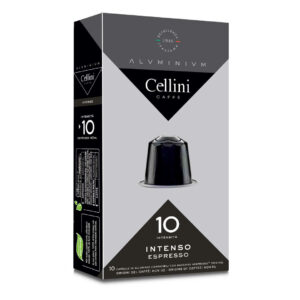 Espresso Intenso, full-bodied taste and fruity notes, intensity 10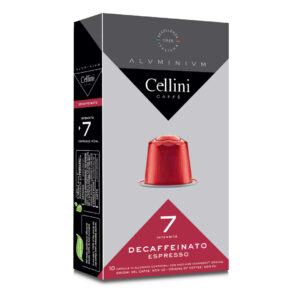 Decaffeinto , full-bodied taste without caffeine, intensity 7
PURE ORIGINI
Espresso of special origin with unique character.
Are you ready to discover the variety of flavors of our coffees from different origins? Enjoy the unmistakable taste of our Pure Origini coffees and learn how the local coffee processing methods influence the aroma.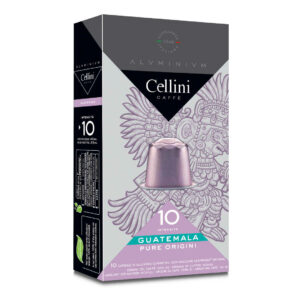 Guatelama Santa Rosa , particularly harmonious and fruity, intensity 10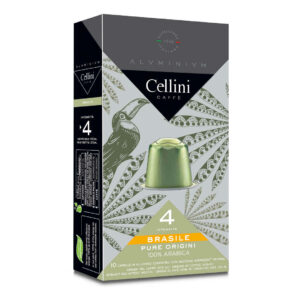 Brasile Mogiana , particularly delicate, sweet and pleasantly acidic, intensity 4
SPECIALITIES
If you add a milk frother to your capsule machine, you can also prepare delicious Italian specialties such as cappuccino, latte or latte macchiato. Indulge yourself and friends with perfect coffee creations according to your personal taste preferences.
For even more variety: discover unusual hot beverage specialties, such as Ginseng or fine Cereal coffee for even more variety from your Nespresso machine.
NESPRESSO®* PROBIERSETS
Experience the diverse selection of different coffees.
In addition to your personal preferences, our Nespresso®* sample sets also allow you to discover new varieties. From intense, balanced to fruity. Guaranteed you will find your favorite cellini. At the same time, Cellini Nespresso capsule tasting sets also allow you to discover new flavors and choose your favorite Cellini to match the time of day and mood.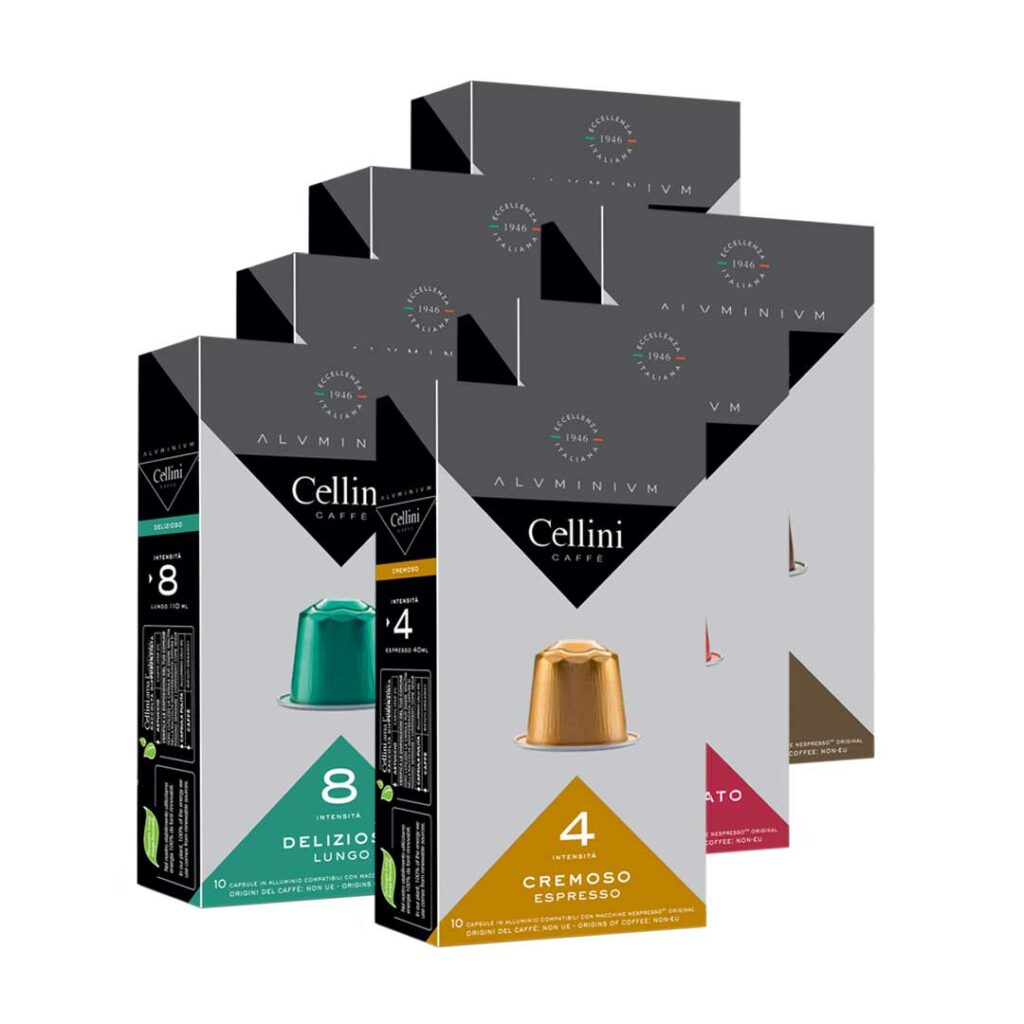 Nespresso tasting set Piccolo 2 Lunghi and 5 Espressi put together for you
What are the advantages of coffee capsules for Nespresso®*?
Great variety: each variety offers a new taste experience with different character and intensity
Preparation of coffee specialties at the touch of a button, fast and uncomplicated
Easy switching between coffee specialties, depending on mood and time of day
Always consistent, high cup quality and the highest hygienic standards
You can regulate the intensity with the amount of hot water
Lush thick velvety crema
What is the shelf life of Nespresso®* capsules?
A key advantage over many other coffee-making options is the long shelf life of Cellini Nespresso capsules. The best-before date printed on the box indicates the aroma freshness of the coffee. After this date of about 18 months, due to the vacuum-tight capsule very slowly begins to lose flavor. This does not affect the perishability of the product. Coffee grounds have an almost unlimited shelf life. Contact with air and moisture is excluded.
Why we decided to use capsules made of aluminum?
The new aluminum capsule seals your Cellini Caffè perfectly. Only during preparation it releases all its wonderful flavors.
Best aroma protection
Our aroma-sealed aluminum capsules optimally protect your coffee from oxygen, light and moisture. This is how we guarantee the full, incomparable Cellini aroma.

Perfect cup quality thanks to 10% more coffee in each capsule
10% more coffee in each capsule guarantees a perfect cup result, with exceptional thick velvety crema and intensity. Enjoy the individual character of each coffee variety. Cup by cup.

100% Recyclable
Our new Cellini aluminum capsules leave nothing to be desired – this also applies to disposal. Aluminum is 100% recyclable. You can easily dispose of the capsules in the yellow sack or the yellow bin.

100% compatibility
One hundred percent compatibility with all Nespresso®* machines.

100% Original Italian
All coffees are roasted and packaged in Genoa.

Sustainable
Produced with 100% green electricity from hydropower. FSC certified packaging from sustainable forestry.
Conclusion – Easy preparation and highest quality
Would you like to prepare your coffee or espresso in an uncomplicated way, at the touch of a button, with excellent taste, just like in your favorite café? And at the same time enjoy a diverse selection of different flavors? Nespresso ®* capsules from Cellini Caffè are just what you need.
Now Nespresso®* capsules discover.
For even greater moments of pleasure, you'll find perfect companions for your coffee break in the Cellini Caffè Shop. Our pleasure enthusiasts have selected fine melt-in-the-mouth tartufi, softly baked amaretti or wonderfully crispy cantuccini for you.